Krótko mówiąc, tak – rozpoczęcie działalności Amazon jest nadal warte rozpoczęcia w 2023 roku.
Nie popełnijcie błędu; Rozpoczęcie działalności Amazon nie jest dla wszystkich. Tak jak każda firma, będzie to wymagało pracy, czasu, pieniędzy i wiedzy. Ale zaawansowane strategie i możliwości, które odróżniały Amazon od innych opcji biznesowych w przeszłości, są nadal obecne i będą nadal obecne w miarę upływu lat.
Dzięki odpowiedniemu produktowi i strategii niebo jest granicą. W rzeczywistości potencjał sukcesu jest wyższy niż kiedykolwiek, ponieważ Amazon nadal rozszerza swój zasięg.
Podczas gdy wiele branż doświadczyło utrzymujących się turbulencji z powodu COVID-19, handel elektroniczny i Amazon FBA gwałtownie wzrosły w 2020 r. Tradycyjni detaliści od lat tracą grunt pod nogami na rzecz handlu elektronicznego, a pandemia tylko przyspieszyła zmianę sposobu konsumpcji klientów.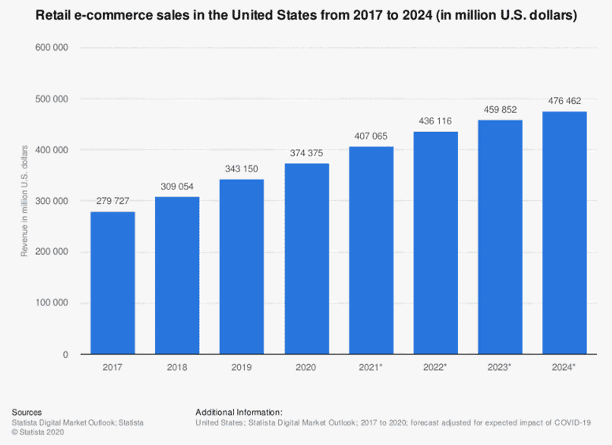 Podczas gdy pandemia zakłóciła wiele branż, niewiele, jeśli w ogóle, było na trajektorii wzrostu handlu detalicznego e-commerce. W przeciwieństwie do innych branż, które doświadczyły dramatycznego skoku lub spadku, gdy mieliśmy do czynienia z pandemią, ostatnie kilka dekad i prognozy na przyszłość wskazywały na zrównoważony, ciągły wzrost.
Ale co z Shopify, Walmart lub innymi platformami e-commerce?
Amazon nie był jedynym wielkim zwycięzcą 2020 roku. Po latach wspinaczki Shopify pojawił się jako potężna alternatywa dla Amazon. Dla potencjalnych sprzedawców urok Shopify jest łatwy do zauważenia. Sprzedawcy Shopify mają do dyspozycji szeroką gamę narzędzi eCommerce i dużą swobodę w tworzeniu marki.
Walmart, największy wielokanałowy detalista, skoczył naprzód w 2020 r., Stając się znaczącym graczem w handlu elektronicznym. Przez lata Walmart starał się rozszerzyć swoją dominującą obecność detaliczną online dla sprzedawców zewnętrznych. W 2020 roku wyprzedzili eBay pod względem udziału w rynku handlu elektronicznego, co stanowi przełomowe osiągnięcie dla ich wzrostu.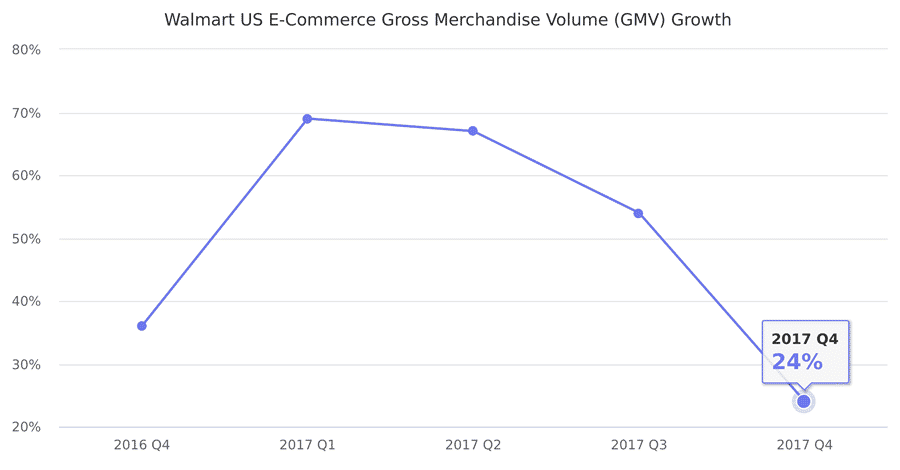 Źródło: Marketplacepulse
W lipcu Walmart i Shopify ogłosiły partnerstwo mające na celu wprowadzenie 1 200 sprzedawców Shopify na rynek Walmart do końca roku.
Niewątpliwie nie można zignorować potężnego sprzedawcy detalicznego, takiego jak Walmart, i głupotą byłoby bagatelizowanie ich zainteresowania handlem elektronicznym. Możliwość zbudowania marki na Shopify i uzyskania dostępu do rosnącej platformy sprzedawcy przez giganta biznesowego w Walmart jest niezwykle atrakcyjna.
Na dłuższą metę rozsądnie byłoby udostępnić swój sklep wszystkim na jak największej liczbie platform.
Ale od razu koszty początkowe sprzedaży na wszystkich platformach mogą być nieprawdopodobne, zastraszające lub zbyt duże ryzyko dla początkującego.
Będąc świadomym decyzji, które będziesz musiał podjąć, rozpoczynając swoją przedsiębiorczą podróż, Amazon FBA nadal króluje przy rozpoczynaniu działalności online.
W oczekiwaniu na raport za czwarty kwartał 2020 r., Amazon był odpowiedzialny za 52,4% udziału w rynku eCommerce w 2019 r. W 2016 roku Amazon posiadał tylko 38,3% rynku eCommerce, od tego czasu wzrastając o około 5% każdego roku.
Chociaż Shopify i Walmart buczą teraz i obiecują przyszłość, Amazon jest teraz królem. Podczas gdy publikacje, które koncentrują się na statystykach branżowych, reklamują Amazon vs. Shopify vs. Walmart jako wojnę eCommerce, w tej chwili nie jest to wielka bitwa, ponieważ Amazon nadal dominuje na rynku online.
Amazon w 2020 roku, według liczb
63% konsumentów na całym świecie korzysta z Amazon, aby rozpocząć wyszukiwanie produktów, prowadząc kolejne najbliższe źródło o 15%, zgodnie z badaniem przeprowadzonym przez Statista w 2020 r.
96,1 mld USD: Przychody Amazon odnotowały w trzecim kwartale, wzrost o 37% w stosunku do III kwartału 2019 r. i prognozowany wzrost między 28% a 38% w czwartym kwartale 2020 r
54% Procent płatnych jednostek na Amazon sprzedawanych przez sprzedawców zewnętrznych (3P), niezależnych sprzedawców, którzy sprzedają FBM lub FBA. Nawet gdy więcej dużych marek wchodzi na rynek, niezależni sprzedawcy, tacy jak Ty, są odpowiedzialni za ponad połowę sprzedaży na Amazon.
153 miliony: członkowie Amazon Prime przewidywani w 2022 roku
213 milionów: Unikalni odwiedzający w lipcu 2020 r. na stronach Amazon
Dzięki ogromnemu rynkowi Amazon i łatwości platformy w rozpoczęciu działalności online, ludzie z całego świata znaleźli dobrobyt dzięki FBA.
Oprócz tego, że jest dominującym silnikiem eCommerce, sprzedaż Amazon FBA stała się ulubionym miejscem przedsiębiorczych nowicjuszy dzięki systemom, które upraszczają sprzedaż.
Podczas gdy Shopify wymaga drogich dodatków i szeroko zakrojonego marketingu, aby przyciągnąć klientów do Twojej witryny, Amazon Seller Central to portal, który umożliwia wiele możliwości i danych bez dodatkowych kosztów.
Shopify i Walmart to intrygujące możliwości dla sprzedawców z dużym potencjałem długoterminowym. Branża eCommerce nigdy nie była silniejsza i jest miejsce dla więcej niż jednego giganta. Podczas gdy każdy sprzedawca ma unikalne doświadczenie i podróż, byłoby oczywiste, że większość sprzedawców skorzystałaby z rozpoczęcia od Amazon FBA przed wprowadzeniem na dodatkowe platformy.
A piękno Amazon FBA polega na tym, że prawie każdy może to zrobić! Nie ma wymaganego wykształcenia, wykształcenia ani doświadczenia w zakresie przedsiębiorczości wymaganego do rejestracji. Rzucenie pracy, bycie własnym szefem i zgarnianie gotówki może brzmieć zbyt dobrze, aby mogło być prawdziwe. Ale widzieliśmy to i pomagaliśmy to urzeczywistnić raz za razem.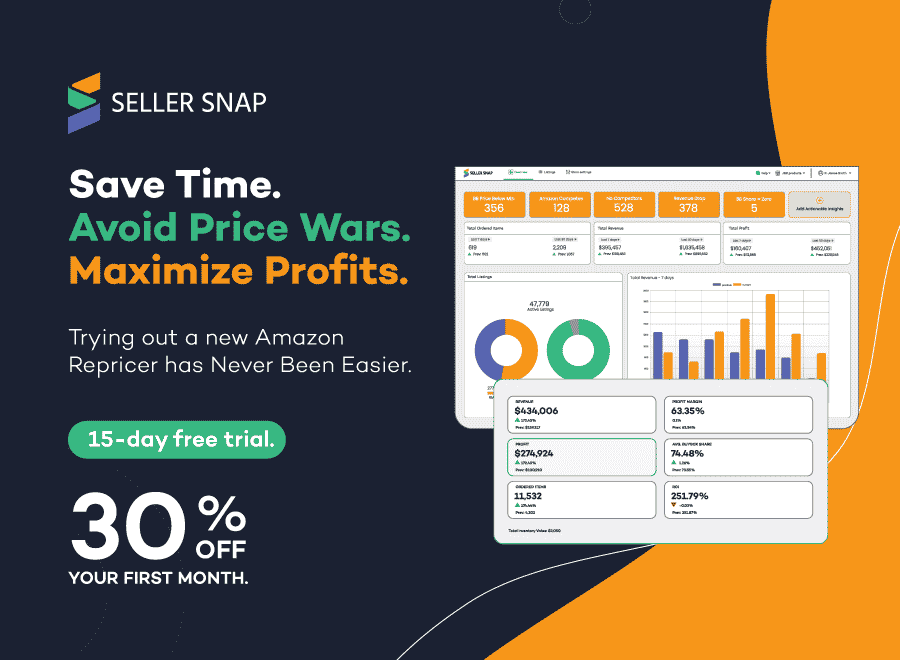 Ograniczanie ryzyka
Jednak rozpoczęcie działalności online lub jakiejkolwiek innej firmy wiąże się z nieodłącznym ryzykiem. Nie ma gwarancji sukcesu ani srebrnej kuli, aby zapewnić, że Twój pierwszy lub następny produkt będzie domem. Gdyby nie było żadnego ryzyka, wszyscy byśmy to robili.
Zwłaszcza, że dołączają bardziej potencjalni przedsiębiorcy eCommerce, pole konkurencji może być zatłoczone. Miliony kupujących na Amazon umożliwiają tysiącom sprzedawców odniesienie sukcesu i osiągnięcie zysków zmieniających życie, ale nie wszyscy będą mieli tyle szczęścia.
Ale ryzyko jest czymś, czego należy być świadomym, niekoniecznie czymś, czego należy całkowicie unikać. Zamiast srebrnej kuli istnieją taktyczne, obliczone kroki, które możesz podjąć jeden po drugim, stopniowo zmniejszając ryzyko i przechylając szanse na swoją korzyść.
Chociaż Amazon zapewnia jednolite, uniwersalne doświadczenie, istnieje wiele sposobów na oddzielenie sklepu i ofert od konkurencji. Niektóre z nich można znaleźć w podstawach, gdy: wypełnienie pustki na rynku produktów, optymalizacja aukcji za pomocą zdjęć i kopii, efektywność z zapasami, aby zaoszczędzić pieniądze na opłatach bez poświęcania sprzedaży, to tylko kilka sposobów na poprawę jakości sprzedaży.
W miarę postępów jako sprzedawca podkreśla się znaczenie uczenia się technik i taktyk, aby wyróżnić się na tle konkurencji. Zaawansowane, bardziej wyrafinowane metody, takie jak reklama, kierowanie ruchem zewnętrznym i sposoby wykorzystania danych w sprzedaży, Amazon stale się zmienia, a sprzedawcy, którzy nie są na bieżąco, ryzykują, że zostaną w tyle.
Podsumowanie
Ponownie, nie jest za późno, aby rozpocząć sprzedaż na Amazon w 2021 roku. Stawki nigdy nie były wyższe, a sprzedawcy, którzy dokładają należytej staranności, prawdopodobnie zbiorą łupy z ich ciężkiej pracy.
Przy tak wielu kluczowych wskaźnikach wydajności prognozujących siłę handlu elektronicznego i silną obecność Amazon w branży, wszystkie sygnały wskazują na to, że Amazon FBA jest oczywisty dla tych, którzy rozważają przejście do przedsiębiorczości.
Na co czekasz? Rozpocznij badania produktów już dziś, aby znaleźć swój pierwszy produkt na drodze do wolności finansowej!